Friends, join us in saying thank you to the original Marathon Woman, Jo Stavers. Jo is leaving our organising committee after having served since 2017, including two stints as Convenor.
If you've been to one of our fundraisers over the years, it was probably organised by Jo. She's the woman who just keeps going and going and going. (Sometimes literally rocking up to volunteer after having just run a marathon.)
Jo is an incredible communicator who is able to drive us to an outcome, no matter how stuck we are. She's confident and clever yet somehow completely down to earth. She is also generous with her time and her space – we've had countless Committee meetings sitting around Jo's dining room table.
If there's one image that exemplifies Jo's attitude, it's watching her happily tuck into a piece of bread with tomato sauce after a long day at the Bunnings Sausage Sizzle. (As a vegetarian she flips the snags but can't eat them!)
We are very sad to lose Jo from our Organising Committee, but we are glad that she will still be part of our garden as a general member.
Hopefully we can meet again soon to say cheers over a beer. For now – thank you Jo. We're raising a virtual pint in your honour.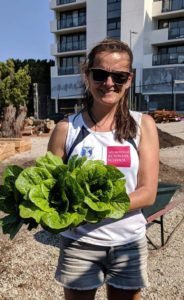 Big thanks to Jo as she leaves the PCG Organising Committee