West Brunswick Community Garden
Located in Dunstan Reserve, the West Brunswick Community Garden is a friendly, welcoming place with communal beds, personal plots and a community composting hub.
We are always excited to welcome new members and there are lots of ways to get involved.
Choose the membership type you want, click the button (you'll be taken to TidyHQ our membership management tool). fill in your details and pay your membership fee by credit card. If you want to pay another way, see below.
COMMUNAL GARDENING MEMBERSHIP | $60 FULL, $35 CONCESSION
Communal Gardening Membership gives you access to the large communal gardening space and use of all tools and materials at any time. We supply seeds fertiliser, mulch, compost, and everything else needed to make the garden thrive. Our more experienced members will be happy to help you develop your skills.
All gardening members share the harvest that comes from our hard work. There's always plenty to go around!
Once you are a Communal Gardening member you can also apply for a personal plot.
---
FRIENDS OF THE GARDEN | $20 FULL, $10 CONCESSION
For those who want to support the West Brunswick Community Garden and deposit their kitchen or garden waste at the Composting Hub but don't want to actively use the communal gardening space. This membership includes site insurance and lock combination so that you can access the compost bins at any time.
---
Don't want to pay by Credit/Debit card?
The buttons above allow you to pay by credit or debit card. Would you rather pay another way? Click below to send us an email. If you tell us who you are and what you'd like to do, we'll try to help.
Note:
All Members of the West Brunswick Community Garden automatically become members of our parent organisation, Moreland Community Gardening (MCG). This gives you a say in how the garden and organisation is run, the opportunity to become an organiser or board member, and a vote at the AGM.
Here's some information about eligible concession cards
All of our memberships are annual, you will receive an automatic email when your membership is due for renewal.
There are a range of personal plots for Communal Gardening Members who are interested in tending their own private space. Once you are a Communal Gardening Member you can apply for a plot by emailing our garden organisers. An additional annual fee is charged for use of a personal plot
Drop off your compost
If you want to contribute your kitchen or garden waste to our composting system without participating in other gardening activities, you need to be a Friend of the Garden member.
After paying your membership fee, you will receive a briefing on the Garden including the operation of the composting system and be given the combination to the gate lock.
You are welcome to come to the garden to deposit your scraps at any time
Just the newsletter thanks
Alternatively, if you'd just like to receive our free newsletter so you know what's happening at our gardens you can become a subscriber for free.
---
WHAT'S ON AT WEST BRUNSWICK
Click here for the dates/times of all this month's activities
Weekday Meetups: Every Friday 10 am – 12 pm
Garden in company! No need to come every week or stay the whole time or even do any gardening, you can just come along, say hello and sit about and enjoy the view and have a cuppa. Everyone (including kids) welcome, come down and enjoy. See you down there!
Communal gardening working bee: 2nd Sunday every month from 10am
Our monthly communal gardening group working bee when we focus on our communal garden beds.
Food Forest monthly working bee: 3rd Saturday every month from 10am
Join others interested in maintaining one of Melbourne's oldest public open space food forests
Garden & Gather: 4th Sunday every month – 11 am – 3 pm Mar – Nov (9am – 1pm Dec – Feb)
Our monthly working bee and lunch where we aim to get bigger bits of work done around the garden and food forest and keep things looking good and eat a yummy shared lunch.
---
CONTACT US – WEST BRUNSWICK COMMUNITY GARDEN
Enquiries? Questions? Comments? Praise? Donations (e.g. tools, plants, time, funds) or anything else to do with West Brunswick Community Garden?
---
WHERE TO FIND US
The West Brunswick Community Garden and Food Forest are located:
Behind 49 Everett Street, Brunswick West VIC 3055
Enter via Everett St through the car park beside the Moreland Child Care Centre.

Closest Tram Stop: Route 55 Tram to Stop 40 (Melville Rd/Moreland Rd)
walk west down Moreland Rd towards Citylink. Everett St runs south off Moreland Rd

Closest Bus Stops:
Route 510 (towards Essendon) Stop 8846 (Walhalla St)
Route 510 (towards Ivanhoe) Stop 9738 (Graham St)
---
MORE ABOUT THE GARDEN
Here's some information that's directly relevant to the West Brunswick Community Garden & Food Forest:
---
OUR HISTORY
In 2011 Council approached the community looking for groups who would commit to improve the garden and to get more people involved. We put our hand up and we were very fortunate to get picked.
We put forward a plan for this community garden to be a hub for the community, providing residents with an opportunity to:
Grow healthy, safe, affordable, organic food,
Share companionship, skills and knowledge,
Participate in and feel a part of their community,
Enhance their mental and physical well-being,
Learn to lead a more sustainable life.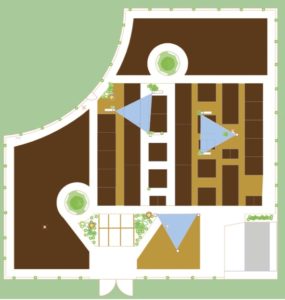 Importantly it must be financially, environmentally and socially sustainable.
The space is roughly split as follows:
⅓ plots allocated to an individual or household,
⅓ shared but managed communal growing space,
⅓ shared facilities, e.g. compost bays, propagation area, equipment storage , learning/teaching/gathering space, paths,
The great thing about this division is that there's no limit to how many of us can be involved. No matter how you are involved, the whole garden is for everyone. Personal plot holders get involved with communal gardening and everyone is interested in what is grown by plot holders.
The food from the communal plots is shared by those who share the fun of growing. Even the personal/household plots share some of their bounty too.
We're striving for a culture that is welcoming and embraces sharing. Sharing of knowledge, food and companionship. So, get involved, meet your neighbours, get your hands dirty and help build something. Bring a friend with you. Bring your kids. There's room for everyone
If you're interested in being actively involved as a communal gardener, applying for a personal plot or just want to receive our email updates about activities and progress Sign Up!
See what we have in store for the garden!